Old printed books through the time
Old printed books through the time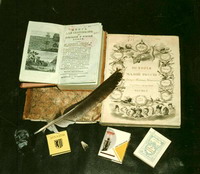 Sometimes time is absolutely imperceptible for us, it changes the attitude to black lines on a paper. And a book that had seen the world two hundred years ago, we perceive with other feeling, rather than that which has just left a publishing house. And the thing is not only in data mentioned in it that fell into oblivion. The book itself is a monument, a rare bibliographic item and has greater historical and cultural value. Our library has such treasures too.
Among them are the oldest:
RAPIN, Paul R. de Thoiras «Histoire d'Angleterre». V.12, (Gaaga, 1738)
Monpassier, Anna-Maria-Luisa. «Memoirs».V.7.,(London, 1764);
«The World Map», (Augsburg, II half of .XVIII cent.)
Craft G. «The Original and Detailed Description… the Ice House», (SPB., 1753)
Rollen S. «The Ancient history about Egyptians , Carthaginians, Assyrians…», (SPB., 1753)
Bantysh-Kamensky D. «History of Malaya Russia», (М., 1822);
«Minoa: August», (К., 1787),
Rostovsky D. «Life of the Saints», (М., 1746).