Museum of books
Invitation to a museum
As a rule, people go to museums for excursion. People come to our museum not only to watch at various rare books but to work with them as well.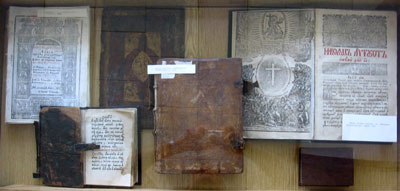 Book History is devoted to every aspect of the history of the book, broadly defined as the history of the creation, dissemination, and reception of script and print. It publishes research on the social, economic, and cultural history of author- ship, editing, printing, the book arts, publishing, the book trade, periodicals, newspapers, ephemera, copyright, censorship, literary agents, libraries, literary criticism, canon formation, literacy, literary education, reading habits, and reader response.
Publishing is an outstanding invention of mankind. Today we have a great opportunity to meet people who lived long time ago, to travel in time with fascinating interlocutors. Thus, dear readers, you are very welcome to join us on this trip.
An idea of organizing of an original book museum at O.Gonchar Kherson regional universal scientific library (KRUSL) arose at the time of opening of a department of rare editions (1994) where the basic part of book values has gradually concentrated.
The library stores more than 27 thousand items on different branches of science which are the main component of a national cultural heritage. These are books, brochures, notes, editions and significant enough file of the periodical press from funds of the basic book-depository, a department of rare editions and a study of local lore department.
The real treasure of the fund is a
collection of old printed editions
(1738-1830). The most numerous part of the rare and valuable fund are books of ХІХ – beginnings XX centuries. Among them are lifetime publications of outstanding masters of the word, known politicians, historians, scientists, etc. The collection constantly replenishes with autographed books, ex-librises, and miniature editions. Not less valuable part of the library fund consists of Ukrainian books and local lore study editions of ХІХ–XX centuries published during the World War II and personal collection assemblies of press and periodic.
Therefore, a lot of interesting things are waiting for you, dear readers, if you join the virtual journey on our website. But it isn't all that we can offer, In our further plans – acquaintance not only to copies of rare editions of the library, but the most interesting exhibits from collection assemblies of local collectors, important documents of library museums, etc.