Home

Department of rare and valuable editions greet you, esteemed visitor!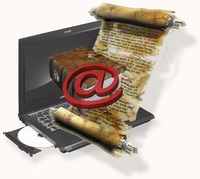 We hope that your acquaintance with us will be helpful and pleasant, and the fascinating trip in the endless world of books presents you with many interesting encounters.
In our stormy, tumultuous daily life, it is not often that we get a moment of free time to visit a library, much less a museum. But current information-communications technology allows us to do so without leaving our home.
Immediately after visiting the Department, you will be able to:
•
use the services of the reading hall provided through the Department
•
become familiar the museum's exhibits from the rare collection of the Library
•
receive helpful consultations on questions regarding the evolution and history of a book
•
request an outline or thematic review on materials contained in our Library
•
attend all public events held by the Department such as "Lessons in the Evolution of Books", exhibits, presentations, bibliographic reviews and thematic overviews of literature;
•
carry out tasks within the Department's capabilities
We sincerely hope to hear from you !
We are interested in your impressions, and we would be very grateful for your comments, responses and requests which you may leave on the page titled
return mail.
---